Course details
【1 most popular course】 December chef special premium full-fledged Japanese-style dinner with you all-you-can-ey \ 8000 → \ 7500 course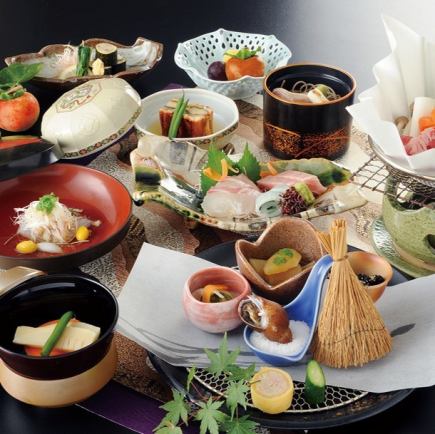 By using a coupon7500 yen
All-you-can-drink available

All-you-can-drink for 120 minutes!
Reservation deadline

2 days before arrival date until 20 o'clock
Available days for reservation

Monday - Sunday - Public holidays - Holidays
Use fresh fish [making fresh from the market], Hiroshima brand [fly island oyster fried], 【Nyi bream lotus steamed】 etc, use only the seasonal ingredients of present time abundantly and examine the meetings to be enjoyable We will do hospitality with the skill and heart of cooks on the material we did.Moreover, it is profitable that \ 8000 → \ 7500 is the most popular course of our shop simply by presenting or printing a coupon now
Course menu
Appetizer seasonal appetizers Assorted
Seated bowl salted stone soup juice
Radish carrot thin fried vegetables
Make fresh production from the target market
Boiled cucumber wagon
Boiled wagyu beef bamboo plum flower and carrot chrysanthemum
Hakka Sakari cold weather roll
Cod Whitefish Golden Lift False Island Oyster Fly
Bamboo shoots peppers
Steamed bream lotus steamed
Daikoku shrimp mushrooms Axial three-leaf thin braised bean paste
Meal
Descending
Ingredients
sweet taste
* It may be changed somewhat depending on the purchase situation etc.
Japanese Cuisine Momiji Kyo Chef Yokota Hideji
All-you-can-drink menu
· Bing beer
· Asahis - pa-dry giraffe squeezing beer
· Shochu
· Potato shochu wheat shochu (water split · hot water split · lock)
·Sake
· Kamo Tsurumoto brewing dry (hot · always)
·whiskey
· High Ball · Ginger - High Bowl · Cog Height · Water Round · Lock
· Chu-hi
· Giant Peak · Lemon · Yuzu · Lime · Calpis
·Non-alcoholic
· Asahi Dry Zero
·Soft drink
· Bird dragon tea · koala · jinja · · calp · orange · yuzu
· You can add wine (red · white) or chill (Kamo crane) with ※ + 700 (tax and service charge).Both can be added by +1000 (tax and service charge).
Coupons that can be used with this course
2018/12/06 update